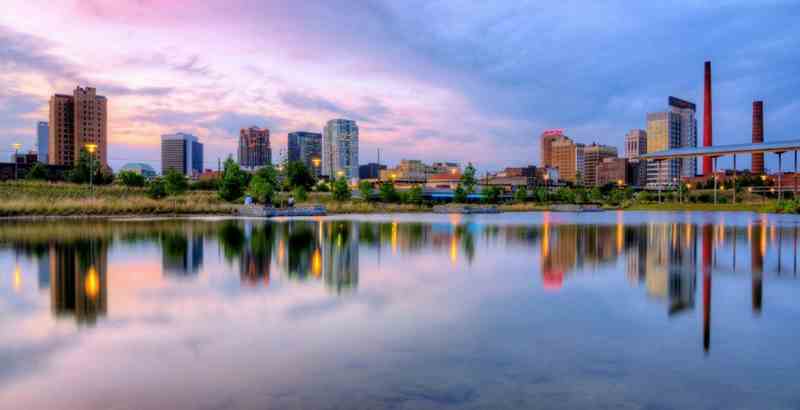 Birmingham Tourist Attractions
In recent years, Birmingham has become a popular tourist destination, in part because of its architecture, its history, and its parks.
Here are some attractions you can visit when in Birmingham, Alabama.
Ruffner Mountain Nature Center
Address: 1214 81st Street South, Birmingham, Alabama
Ruffner Mountain Nature Center is an ideal place for hiking, bird-watching, and outdoor enthusiasts to explore and learn.
The wildlife sanctuary is home to raptors, snakes, turtles, frogs, salamanders, and mammals.
Mining sites, quarries, and mining equipment remain on Ruffner Mountain from the many iron ore mines that dotted the landscape from the 1880s to the 1950s.
Another mining site-turned-park is Red Mountain Park, which has several historic iron ore mining sites and a system of 15 miles of trails.
Mountain biking is allowed on all of the trails as well, and there are two miles of flat walking trails, which are ideal for strollers and wheelchairs. Red Mountain Park also offers those with mobility issues a chance to explore the full range of trails.
Address: 2630 Cahaba Road, Birmingham, Alabama
Birmingham Zoo is a popular attraction for families and kids of all ages. Kids will love its collection of birds, reptiles, and mammals from around the world. It also showcases numerous endangered species at the facility.
Throughout the day, visitors can enjoy shows and events, including the sea lion show, sea lion training session, and reptile feeding.
For a small fee, kids can take a ride on the animal-themed carousel. This attraction also features hundreds of butterflies from more than 20 species, all of which are native to Alabama.
Sloss Furnaces National Historic Landmark
Address: 20 32nd Street North, Birmingham, Alabama
The Sloss Furnaces began producing pig iron in 1882 and continued for almost 90 years.
The Sloss Furnaces in Birmingham is now a museum of industry. The blast furnaces and buildings have become a landmark attraction in the area.
There are tours available on the weekend or by request.
Address: 4343 73rd Street North, Birmingham, Alabama
The Southern Museum of Flight is home to exhibits and historic aircraft. The indoor section of the museum uses life-size dioramas to illustrate various topics, many of which relate to the history of aviation in the military.
The Korean War Jets exhibit features the infamous fighter jets, the MiG-15 and F-86 Sabre.
For kids ages 12 and up, including the kids-at-heart, there are fully functional flight simulators, staffed with real flight instructors.
Visitors can walk among the planes, including an early-model commercial plane once used by Delta Air Lines, an A-12 Blackbird, and a Stealth bomber.
The Alabama Aviation Hall of Fame is also located here, with aviation art, photographs, and murals.
Address: 1701 Valley View Drive, Birmingham, Alabama
This 56-foot statue of Vulcan, Roman god of fire, was built in Birmingham for an exhibit at the Palace of Mines and Metallurgy at the 1904 St. Louis World's Fair.
Made of 100,000 pounds of iron, it is the largest cast-iron statue in the world.
Today, it stands to watch over the city of Birmingham from the top of Red Mountain, an enduring reminder of the city's early industrial roots.
Tourists can enjoy amazing views of the city from the observation deck and on-site.
Visitors to Vulcan Park can also enjoy a picnic on the grounds, view an art exhibit at the Linn Henley Gallery, and enjoy a panoramic view of Birmingham's skyline.
Address: 2000 Rev Abraham Woods, Jr. Boulevard, Birmingham, Alabama
The Birmingham Museum of Art is home to more than 20,000 works, from ancient to contemporary, originating from all parts of the globe, including European decorative arts.
The American decorative art collection contains more than 2,000 pieces. This collection includes porcelain, vases, vessels, and metalwork like fine silver, furniture, and textiles.
The African art gallery houses thousands of pieces, consisting of detailed beadwork, headdresses, vessels, furniture, and figures.
The collections also include an array of European art, with notable artists like Dali, van Rijn, and Pissarro, as well as both American and contemporary art.
UNBEATABLE VALUE CAR RENTAL

FREE
Amendments,
FREE
Cancellations,
NO
card fees!

airport_shuttle Need Airport Transfers?
Useful Information about Birmingham Shuttlesworth Airport